Dental Fillings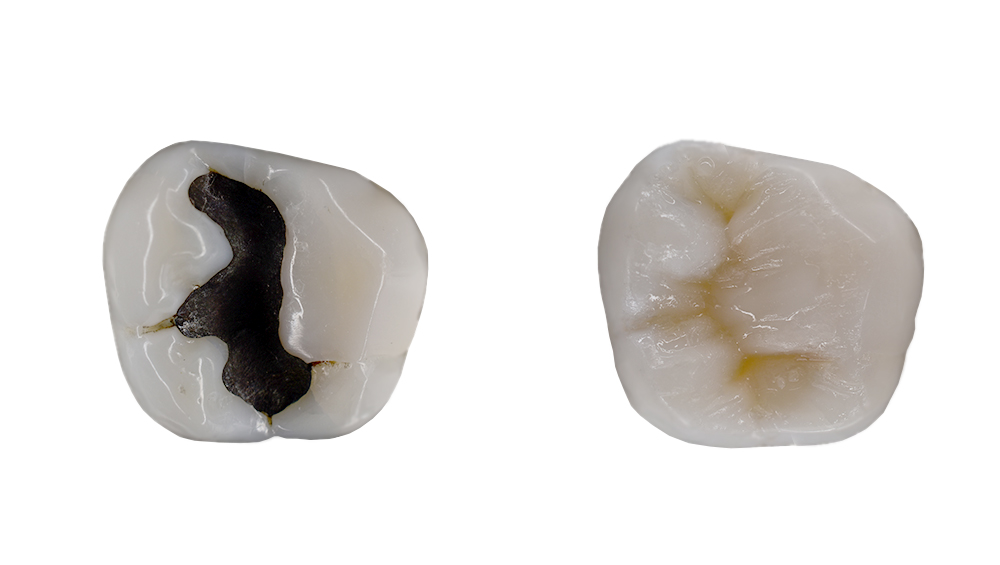 With the use of highest quality materials on the market, our fillings faithfully mimic the tooth. We shape each cusp and every indentation of the tooth.
The restoration compensates the lost tooth structure caused by dental cavity or a fracture in cases where tooth damage is not too great. That is why it is important to have regular check-ups so that caries can be detected at an early stage.
In the past, non-aesthetic amalgam fillings were a norm. However, they are dark and do not match the colour of the natural tooth. Therefore, nowadays they are not used as much because of their harmfulness, poor bonding to the tooth and bad appearance.
The composite filling materials that we use in our practice are of the highest quality, have excellent aesthetic and mechanical properties, and they bind perfectly to the tooth structure. The fillings are made to perfectly match the tooth. This means that each cusp and every indentation is shaped like the natural tooth, and the transition between the tooth and the filling is almost indistinguishable.
The shape of the cusps is important not only for aesthetic but also for functional reasons. There is a reason for the morphology of teeth, which must be respected when doing any work in the mouth.
In cases where this is not respected, the natural distribution of force in the bite may be affected, causing more harm than good (pain in the teeth, muscles or joint, etc.).
In addition to making dental fillings, it is also possible to make inlays and onlays in the lab based on the dental impression. Inlay and onlay are prosthetic tooth restorations, which are used to reconstruct a tooth significantly damaged by caries. They are made in the dental laboratory, so they look much better than classical fillings. They are a good alternative to dental crowns.
Our advantages
A small, well rounded team specialized in dental aesthetics


Boutique approach – a personalized process and dedication to each patient


Perennial experience in state-of-the-art dental practices


A modern practice and a comfortable ambience


Exceptional materials with a perennial guarantee


Modern-day program for digital smile design